Crop Establishment Under Pressure – South East Farmer – Matt Ward
Posted on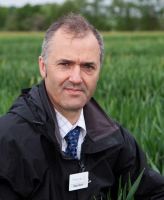 As the wet weather continues it is important to consider what impact this has had on the rotation and have a plan for the spring to prevent any further necessary losses.
Matt Ward, services leader, with Farmacy believes now is the time to stop and consider how to make the best of a difficult situation and avoid impacting not just on the 2020 harvest but also that of 2021.
We have to face facts that soil in many areas are already very delicate – and cannot be travelled on without causing long term damage, and even by the spring soils may not be in any better condition.
The long term costs of establishing a crop on fragile unproductive soils will be far greater than leaving an area of the field fallow and focussing on the better performing areas.
For example, putting 25% of potential wheat drilling from a poorly performing turning headland into fallow across a five year rotation is not going to have a huge impact on the overall net margin – and will save seed and time costs that may be better spent elsewhere.
We know that parts of fields vary in their ability to establish, and this is where precision technology can really come into play as it can support decisions about where to invest in a field or area of a field and where to hold off.
Using Omnia it is possible to incorporate several seasons of yield maps into the system, which when translated into a yield performance map clearly illustrate the areas of the field that consistently perform versus those that do not.
My advice is to focus on the consistently performing areas and leave out the inconsistently performing areas for now – these can be addressed when conditions improve on a bespoke basis.
It's all about having a plan that will result in the highest profitability – remember even firefighters have a plan!
Going back to basics for successful drilling has never been more important.
To get the most out of variable rate drilling it is important to:
Understand the target plant population for that area of field or field
Know the thousand grain weight of your seed
Drill seed based on see numbers, not weight.